I had ran out of my Art of Shaving arsenal and hadn't had a chance to pickup new product for a few months until yesterday.  I needed everything so I picked up the Lavender Pre Shave Oil, Lavender Shave Cream, and the Sandalwood After Shave Balm.  I was tossing around getting the unscented Cream and Oil instead of Lavender so the lovely fragrances specialist Ruth helped me decide and gave me some unscented testers to accompany my original decision.  To my surprise she brought me about 8 travel kits including oil, cream, and aftershave.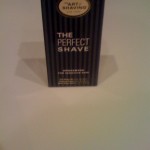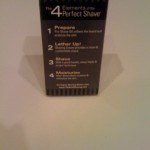 The 4 Elements of the Perfect Shave
1) Prepare     Pre-Shave Oil softens the beard and protects the skin
2) Lather up!     Shaving Cream provides a close and comfortable shave
3) Shave     With a good handle, sharp blade & proper technique
4) Moisturize     After-Shave Balm sooths & refreshes the skin
http://www.theartofshaving.com/info/theperfectshave
Followup- 19 June 2010, I went to the mall with @sauceboss and picked up a some more art of shaving product.  It seems like one batch lasts me about 5-6 months.  Not bad.